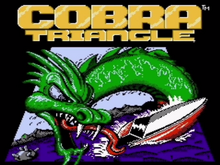 Let's Play Cobra Triangle is, by start date, NCS' 85th Let's Play. It's a short NES racing game by Rare (Yes,
that
Rare of Donkey Kong Country and Banjo-Kazooie fame). The Let's Play took a single video that was released on June 21 2015. It can be viewed
here
. Part of NCS' 8-bit summer 2015.