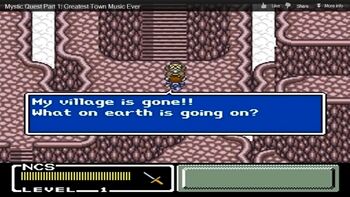 Final Fantasy Mystic Quest is, by start date, NintendoCapriSun's 58th Let's Play which began on August 22, 2012 for a "
backup PAX LP
" (project that uploads itself while NCS is gone). Final Fantasy Mystic Quest is a game for the SNES (also released on the Wii's virtual console) and a spin-off of the popular Final Fantasy games. He wanted to this games because it is the first RPG he ever played, has fond memories of it and needed a game that would take approximatively 20 parts to complete.
The LP ended on September 9, 2012 with 19 parts.
| # | Episode Name | Upload Date | Link |
| --- | --- | --- | --- |
| 1 | Greatest Town Music Ever | Aug. 22, 2012 | Click Here |
| 2 | Boner Dungeon | Aug. 23, 2012 | Click Here |
| 3 | Showoff | Aug. 24, 2012 | Click Here |
| 4 | Block Puzzle | Aug. 25, 2012 | Click Here |
| 5 | NOOOOSE | Aug. 26, 2012 | Click Here |
| 6 | There's The Bitch Now | Aug. 27, 2012 | Click Here |
| 7 | Reuben | Aug. 28, 2012 | Click Here |
| 8 | Flaming Pilar | Aug. 29, 2012 | Click Here |
| 9 | White as a Ghost | Aug. 30, 2012 | Click Here |
| 10 | The Obligatory Long Part | Aug. 31, 2012 | Click Here |
| 11 | I Just Blew You | Sept. 01, 2012 | Click Here |
| 12 | This is not Final Fantasy 4 | Sept. 02, 2012 | Click Here |
| 13 | Gale Weathers | Sept. 03, 2012 | Click Here |
| 14 | Everybody Knows It's Windy | Sept. 04, 2012 | Click Here |
| 15 | Elevator Antics | Sept. 05, 2012 | Click Here |
| 16 | Mac Fleetwood | Sept. 06, 2012 | Click Here |
| 17 | Doom Shaka Laka | Sept. 07, 2012 | Click Here |
| 18 | Pushing Through | Sept. 08, 2012 | Click Here |
| 19 | Finale: I'm Sailing Away | Sept. 09, 2012 | Click Here |