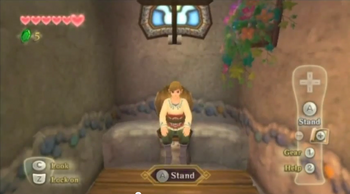 For his 55th LP,
NintendoCapriSun
let's played "
The Legend of Zelda: Skyward Sword
". It began on
Feb. 20, 2012
. It is the first LP ever recorded by Tim with his Happauge HDPVR, which was offered as a gift by a fan. Tim got all the Gratitude Crystals, Heart Pieces and major upgrades.
Let's Play The Legend of Zelda : Skyward Sword features a SO HAPPY! counter, similar to the IN THE BATHROOM! counter from another let's play. Beginning in part 60 he also flirted with the idea of a "Megaman! Megaman!" counter in the same style, but this was later abandoned when he realized he'd lost count.
Part 12 of this let's play was renamed from "Some Wit For A Blumpkin" to "Some Wit For A Bl...What?" when Tim belatedly discovered the definition of the word "blumpkin". This Let's Play is unusual in that two videos have the same title: Parts 2 and 33 are both called "Don't Bring Me Down".
The Let's Play finally ended on July 13, 2012 with an incredible 91 parts.
Playlist : Click Here
| # | Title | Upload date | Link |
| --- | --- | --- | --- |
| 1 | Yours Truly, Zelda | Feb. 20, 2012 | Click Here |
| 2 | Don't Bring Me Down | Feb. 21, 2012 | Click Here |
| 3 | Free Bird | Feb. 22, 2012 | Click Here |
| 4 | Link Speaks | Feb. 23, 2012 | Click Here |
| 5 | Progress? What's That? | Feb. 25, 2012 | Click Here |
| 6 | Megaman! Megaman! | Feb. 26, 2012 | Click Here |
| 7 | Kikwi Fetch Quest.. (Yawn) | Feb. 27, 2012 | Click Here |
| 8 | Balancing Act | Feb. 28, 2012 | Click Here |
| 9 | A DUNGEON!? | Mar. 02, 2012 | Click Here |
| 10 | Swing Away | Mar. 03, 2012 | Click Here |
| 11 | The Name's Ahem, Ghirahim | Mar. 04, 2012 | Click Here |
| 12 | Some Wit For A Bl...What? | Mar. 05, 2012 | Click Here |
| 13 | Back And Forth | Mar. 06, 2012 | Click Here |
| 14 | Boobatreaux | Mar. 07, 2012 | Click Here |
| 15 | Star Bits | Mar. 08, 2012 | Click Here |
| 16 | Too Hot | Mar. 14, 2012 | Click Here |
| 17 | Uphill Battle | Mar. 15, 2012 | Click Here |
| 18 | A Keyn Eye For Details | Mar. 16, 2012 | Click Here |
| 19 | Earth Win And Fire | Mar. 17, 2012 | Click Here |
| 20 | Yeah, I Drew The Thumbnail | Mar. 18, 2012 | Click Here |
| 21 | That One Too | Mar. 19, 2012 | Click Here |
| 22 | Collection Time | Mar. 20, 2012 | Click Here |
| 23 | To The Desert | Mar. 22, 2012 | Click Here |
| 24 | Freaking Sand | Mar. 23, 2012 | Click Here |
| 25 | To The Past | Mar. 27, 2012 | Click Here |
| 26 | Are We There Yet? | Mar. 28, 2012 | Click Here |
| 27 | Rock Around The Clock | Mar. 29, 2012 | Click Here |
| 28 | Pax Your Bags | April 2, 2012 | Click Here |
| 29 | Epic Lanayru Rap Battles | April 7, 2012 | Click Here |
| 30 | 23 is Not #1 | April 8, 2012 | Click Here |
| 31 | Reunited For Just A Moment | April 10, 2012 | Click Here |
| 32 | Duster | April 13, 2012 | Click Here |
| 33 | Don't Bring Me Down | April 15, 2012 | Click Here |
| 34 | Nothing, I Stubbed My Toe On Link's Sword | April 16, 2012 | Click Here |
| 35 | You Ain't Nothing But A Fetch Quest | April 17, 2012 | Click Here |
| 36 | Mushroom Cloud Layin' | April 19, 2012 | Click Here |
| 37 | Pumpkin Balancing Act | April 21, 2012 | Click Here |
| 38 | TRIAL | April 22, 2012 | Click Here |
| 39 | Crazy Cutters | April 23, 2012 | Click Here |
| 40 | Hiccups | April 25, 2012 | Click Here |
| 41 | Don't Drink The Water | April 26, 2012 | Click Here |
| 42 | Wheel Of Fortune | April 27, 2012 | Click Here |
| 43 | Cistern Act | April 28, 2012 | Click Here |
| 44 | Whippin It | April 29, 2012 | Click Here |
| 45 | Mr. Golden Deal | April 30, 2012 | Click Here |
| 46 | Wind Sword | May 1, 2012 | Click Here |
| 47 | Trial #2 | May 2, 2012 | Click Here |
| 48 | Crossing The Desert | May 3, 2012 | Click Here |
| 49 | Clawshot Practice | May 4, 2012 | Click Here |
| 50 | Horrible Scorpion Battle | May 6, 2012 | Click Here |
| 51 | Beetlejuice (Literally) | May 7, 2012 | Click Here |
| 52 | Nekkid Old Men | May 8, 2012 | Click Here |
| 53 | Parallel World | May 9, 2012 | Click Here |
| 54 | Shipping And Handling | May 10, 2012 | Click Here |
| 55 | The Good Ship Lifelstyle | May 11, 2012 | Click Here |
| 56 | We Ain't Found Ship | May 13, 2012 | Click Here |
| 57 | Boo | May 14, 2012 | Click Here |
| 58 | Arrow Pumpkin Fail | May 15, 2012 | Click Here |
| 59 | Major Upgrading | May 16, 2012 | Click Here |
| 60 | Eldin Trials | May 18, 2012 | Click Here |
| 61 | Nothing Happens | May 20, 2012 | Click Here |
| 62 | Protect The Robot | May 22, 2012 | Click Here |
| 63 | Two Fire Temples | May 25, 2012 | Click Here |
| 64 | We Go Underground | May 27, 2012 | Click Here |
| 65 | I Woke Up In A Car | May 27, 2012 | Click Here |
| 66 | Second Chance | May 28, 2012 | Click Here |
| 67 | Two Stinkin' Heart Pieces | May 29, 2012 | Click Here |
| 68 | The Groosenator | May 31, 2012 | Click Here |
| 69 | Will You Still Love Me | June 1, 2012 | Click Here |
| 70 | Swirlybird | June 3, 2012 | Click Here |
| 71 | Super Levias Massacre | June 4, 2012 | Click Here |
| 72 | Didn't We Just Do This? | June 5, 2012 | Click Here |
| 73 | Taking Notes | June 13, 2012 | Click Here |
| 74 | Getting My Files Mixed Up | June 14, 2012 | Click Here |
| 75 | I Took It Back | June 15, 2012 | Click Here |
| 76 | Hey Kids | June 16, 2012 | Click Here |
| 77 | Lost and Found | June 18, 2012 | Click Here |
| 78 | Purging | June 21, 2012 | Click Here |
| 79 | Sowing The Seeds | June 22, 2012 | Click Here |
| 80 | Number Four | June 23, 2012 | Click Here |
| 81 | Land Of Confusion | June 27, 2012 | Click Here |
| 82 | I Cheated On Zelda | June 28, 2012 | Click Here |
| 83 | The Short Boss Gauntlet | June 30, 2012 | Click Here |
| 84 | The Long Boss Gauntlet | July 01, 2012 | Click Here |
| 85 | All This For A Bottle | July 07, 2012 | Click Here |
| 86 | Stupid Electricity Sh!t | July 08, 2012 | Click Here |
| 87 | Jack Sparrow Returns | July 09, 2012 | Click Here |
| 88 | Bowling Ball Head | July 10, 2012 | Click Here |
| 89 | Down Yours | July 11, 2012 | Click Here |
| 90 | Zelda Reloaded (Semi Finals) | July 12, 2012 | Click Here |
| 91 | Let's Live Here (Finale) | July 13, 2012 | Click Here |