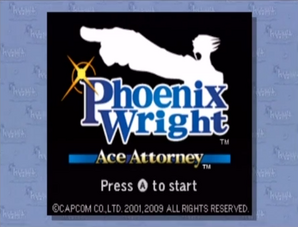 Phoenix Wright Ace Attorney is NintendoCapriSun's first "partial" let's play and Case 4 is the first part of it. It started on a whim after getting interessed into the game by watching Super Jeenius' Let's Play. It's considred partial because he does not start the game at Case 1. Tim plays the WiiWare version of the game blind, but starts with Case 4. He did this to coincide with fellow Let's Player SuperJeenius' LP of the game, and encouraged his viewers to watch the first three cases on his channel.
Phoenix Wright Ace Attorney is an adventure game where the player takes on the role of Phoenix Wright, a defending lawyer who tries to prove that his clients are not guilty. It was originally released in Japan as a Game Boy Advance title, and was later remade for the DS and released worldwide. It also received a release on Nintendo's WiiWare service.
This page covers, as the the title obviously states, case 4 episodes only. For case 5 episodes, click here.
The first five minutes of episode 17 features "The Great Mighty Parrot" scene which give NCS his biggest laugh since "The Great Mighty Poo" in his Conker's Bad Fur Day Let's Play.
| # | Upload Date | Link |
| --- | --- | --- |
| 1 | Jul. 15, 2014 | Click here |
| 2 | July 16, 2014 | Click here |
| 3 | July 18, 2014 | Click here |
| 4 | July 19, 2014 | Click here |
| 5 | July 21, 2014 | Click here |
| 6 | July 22, 2014 | Click here |
| 7 | July 23, 2014 | Click here |
| 8 | July 24, 2014 | Click here |
| 9 | July 25, 2014 | Click here |
| 10 | July 26, 2014 | Click here |
| 11 | July 27, 2014 | Click here |
| 12 | July 28, 2014 | Click here |
| 13 | July 29, 2014 | Click here |
| 14 | July 30, 2014 | Click here |
| 15 | July 31, 2014 | Click here |
| 16 | Aug. 1, 2014 | Click here |
| 17 | Aug. 2, 2014 | Click here |
| Finale | Aug. 4, 2014 | Click here |