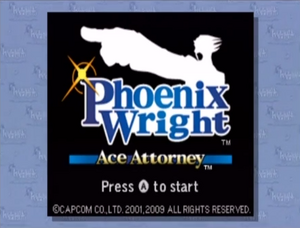 Phoenix Wright Ace Attorney Case 5 is the second part of NintendoCapriSun's first "partial" let's play. Tim watched the first 45min of the case with SuperJeenius' videos but decided to experience the rest of it himself and decided to record along as he plays.
Phoenix Wright Ace Attorney is an adventure game where the player takes on the role of Phoenix Wright, a defending lawyer who tries to prove that his clients are not guilty. It was originally released in Japan as a Game Boy Advance title, and was later remade for the DS and released worldwide. It also received a release on Nintendo's WiiWare service.
This page covers, as the title suggests, only case 5. For case 4, click here.
| # | Upload date | Link |
| --- | --- | --- |
| 1 | Sept. 8, 2014 | Click here |
| 2 | Sept. 9, 2014 | Click here |
| 3 | Sept. 10, 2014 | Click here |
| 4 | Sept. 11, 2014 | Click here |
| 5 | Sept. 12, 2014 | Click here |
| 6 | Sept. 13, 2014 | Click here |
| 7 | Sept. 14, 2014 | Click here |
| 8 | Sept. 15, 2014 | Click here |
| 9 | Sept. 16, 2014 | Click here |
| 10 | Sept. 17, 2014 | Click here |
| 11 | Sept. 18, 2014 | Click here |
| 12 | Sept. 19, 2014 | Click here |
| 13 | Sept. 20, 2014 | Click here |
| 14 | Sept. 21, 2014 | Click here |
| 15 | Sept. 22, 2014 | Click here |
| 16 | Sept. 23, 2014 | Click here |
| 17 | Sept. 24, 2014 | Click here |
| 18 | Sept. 25, 2014 | Click here |
| 19 | Sept. 26, 2014 | Click here |
| 20 | Sept. 27, 2014 | Click here |
| 21 | Sept. 28, 2014 | Click here |
| 22 | Sept. 29, 2014 | Click here |
| 23 | Sept. 30, 2014 | Click here |
| 24 | Oct. 1, 2014 | Click here |
| 25 | Oct. 2, 2014 | Click here |
| 26 | Oct. 3, 2014 | Click here |
| 27 | Oct. 4, 2014 | Click here |
| 28 | Oct. 5, 2014 | Click here |
| 29 | Oct. 6, 2014 | Click here |
| 30 | Oct. 7, 2014 | Click here |
| 31 | Oct. 8, 2014 | Click here |
| 32 | Oct. 9, 2014 | Click here |
| 33 | Oct. 10, 2014 | Click here |
| 34 | Oct. 11, 2014 | Click here |
| Finale | Oct. 12, 2014 | Click here |